Accessing and Leaving the Wasabi Management Console
Accessing and Leaving the Wasabi Management Console
---
Article Summary
Wasabi is a cloud storage service that can be accessed in several ways. Prospective users can sign up for a free trial account with 1 TB of storage, while existing users can sign in using their account credentials or Wasabi's Single Sign On feature. When logging in, users may see an announcement banner and if there is a payment problem, they will be notified. After successful sign in, the Bucket List will be displayed and users can log out or time out after one hour of inactivity.
Accessing Wasabi in Different Ways
There are several ways to access Wasabi:
The Wasabi Management Console as well as the Billing Portal are accessible with iOS and Android:
— iOS (12 and 13) along with the Safari browser
— Android (9 and 10) along with the Chrome browser
Signing in to Wasabi
To sign in with a Wasabi account:
At www.wasabi.com, click Sign In at the top of the Wasabi page. You can sign in as a root user or sub-user, as described in this procedure. (User names are described in Users.)

As an alternative to English, you can click the English button (located below the Sign Up panel) and select the language in which to display the interface.

To sign in as a root user, follow step 2a below. To sign in as a sub-user, follow step 2b.

To sign in as a root user, enter your account email or alias. (Aliases are described in Creating an Account Alias.) Then, enter your password.
To sign in as a sub-user, click Sign In As Subuser. Then, enter the root account email, sub-user name, and password.

Click SIGN IN.
Announcement Banner
When you log in to the Wasabi Management Console, a banner will display announcing new products and features, special offers, service incidents, or scheduled maintenance. This banner is visible on both the login screen and inside the Console. For example:

Security Lockout
As part of the Wasabi security policy, the account will be locked out for 5 minutes after 5 successive failures with an incorrect password. When this happens, the Sign In panel displays an alert message and an email is sent to the root user.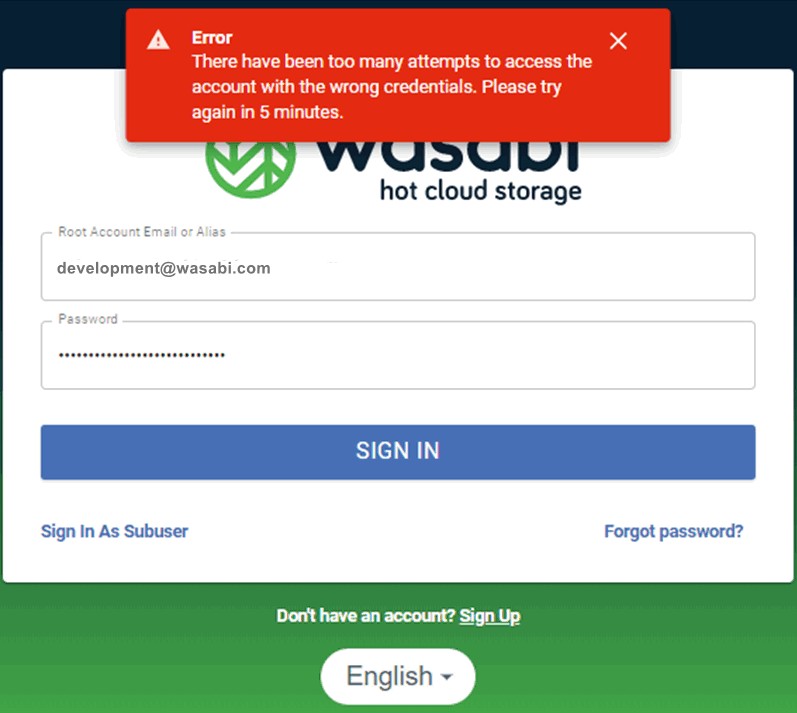 Payment Problem
If you are a sub-user and there is a payment problem with the root account, you may see this message:

This payment overdue notification is displayed after three failed automatic payment attempts. At this time, the account is usable, but only the root account user is permitted to log in to modify or correct the payment information.
Successful Sign In
After a successful sign in, you are ready to work with the Wasabi Management Console. The Bucket List is displayed. For example: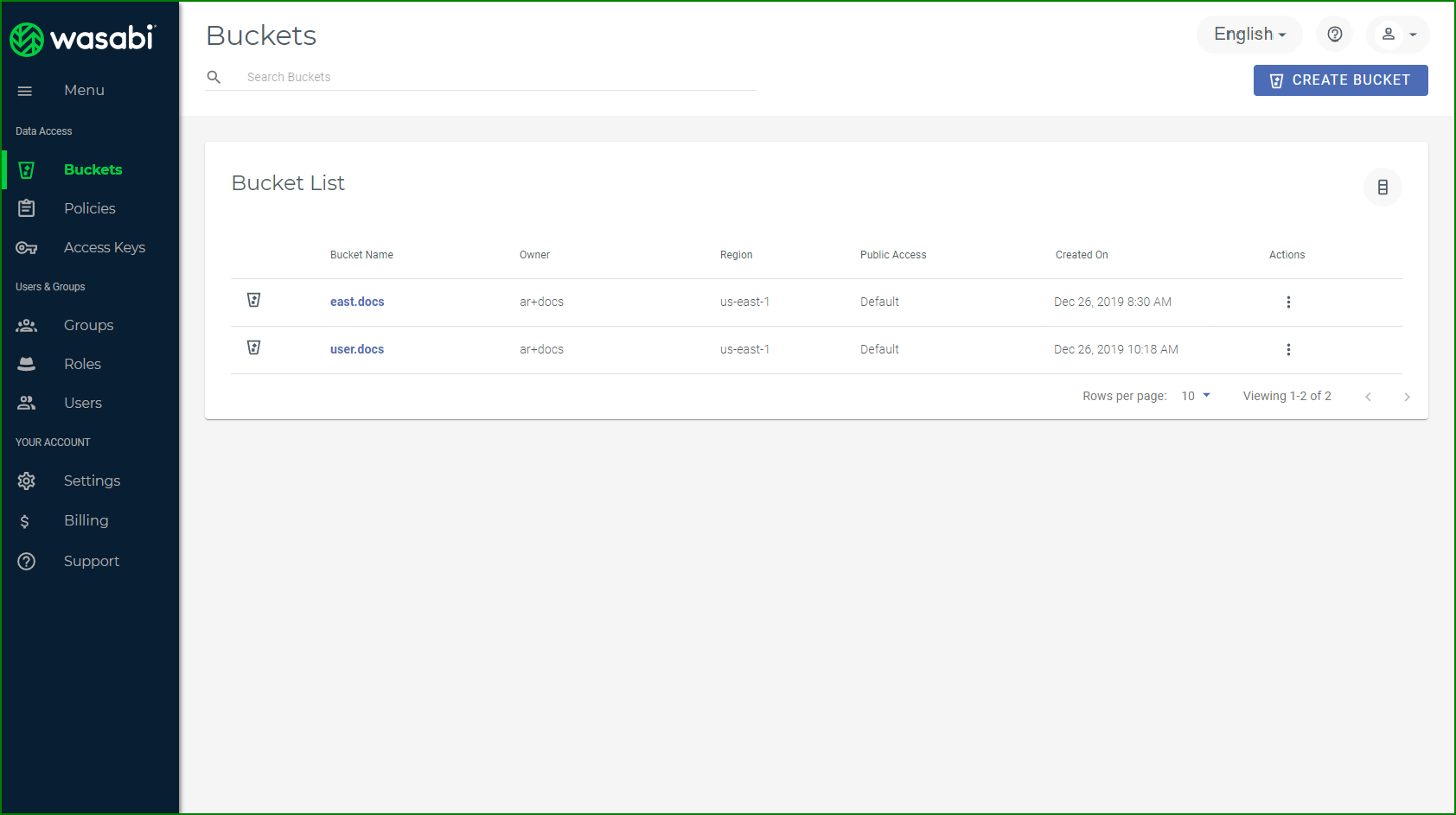 The language button is available at the top right of this panel, which enables you to change the user interface language at any time while working with Wasabi.
Logging Out of Wasabi
Open the account sign-in drop-down.
Click Logout.
Timing Out of Wasabi
If you are not active in Wasabi, your session will time out automatically after one hour of inactivity (default) or the timeout length set by the root user (between 15 and 120 minutes). Note, however, that this will not occur if you are uploading objects.

---
What's Next