Share feedback
Thanks for sharing your feedback!
Objectives
| | |
| --- | --- |
| | Sign up for Wasabi and sign in. |
| | Work with buckets and objects. |
| | Create a user account and access key. |
Signing Up
You can use your free trial to store up to 1 TB of storage for 30 days, without the requirement of a credit card.
You will not be charged to work through the exercises in this quick start tutorial, and you will not be charged for Wasabi until you use it for data storage. For more information about your trial, refer to
Trial Data Limit
and
Trial Expiration
. For FAQs and information on Wasabi features and pricing, go to the
Wasabi product page
. If you choose to delete your Wasabi account after signing up, refer to the instructions in
Deleting an Account
.
Go to www.wasabi.com to sign up.

As a user new to Wasabi, you need to set up an account by completing this procedure. But, check with your administrator to determine if your organization has a Wasabi account and security credentials that you should use. If you already have an account, sign in and then continue by Working with Buckets and Objects.

Click the blue Try Free button. A page to create your Wasabi account is displayed:

Enter required information (marked with an asterisk *):
— Your first and last names
— Work email address at which you will receive a free trial invitation
— Country


—

Approximate amount of storage you believe you would be using (this is not a commitment)

Optionally, enter your company name and telephone number.
Optionally, indicate how you heard about Wasabi.
Optionally, check the box if you want information about reselling Wasabi.
Click Get Started. Wasabi will email an invitation as your link to the Wasabi Console.
In your email ("Welcome to Wasabi"), click Create Account to create your free trial account.
You are prompted to enter a password. (Your email is automatically entered as your account name.) Enter a password of at least 8 characters and re-enter it to confirm.

Click Sign In.
A message thanks you for creating your Wasabi account and explains your purchasing choices when you are ready to buy. Click Continue Your Trial and continue with Step 12. If you are ready to buy, continue reading... (Note that you can purchase Wasabi at any time later, as described in Upgrading to a Paid Plan.)

If you want to purchase Wasabi now, click Ready to Purchase? Click Here to Check Out.The Billing Details screen is displayed:

To submit your purchasing information:

— Enter your billing details. Note that all fields (as marked with an asterisk *) are required.

— Optionally, check the box if you are a tax exempt organization. You are required to provide your exemption certificate, as indicated on the screen.

— Optionally, click in the blue box ("click here") if you want information about buying through a channel partner to earn additional offers and/or discounts.

— Click Submit.

You are ready to sign in to Wasabi. Just enter your account (the email address you entered during sign-up) and password.

As an alternative to English, you can click

and select the language in which to display the interface.

Click Sign In.
You are now ready to work with the Wasabi Management Console and add a bucket. Depending on your configuration, you may see a screen that displays the Dashboard. For example: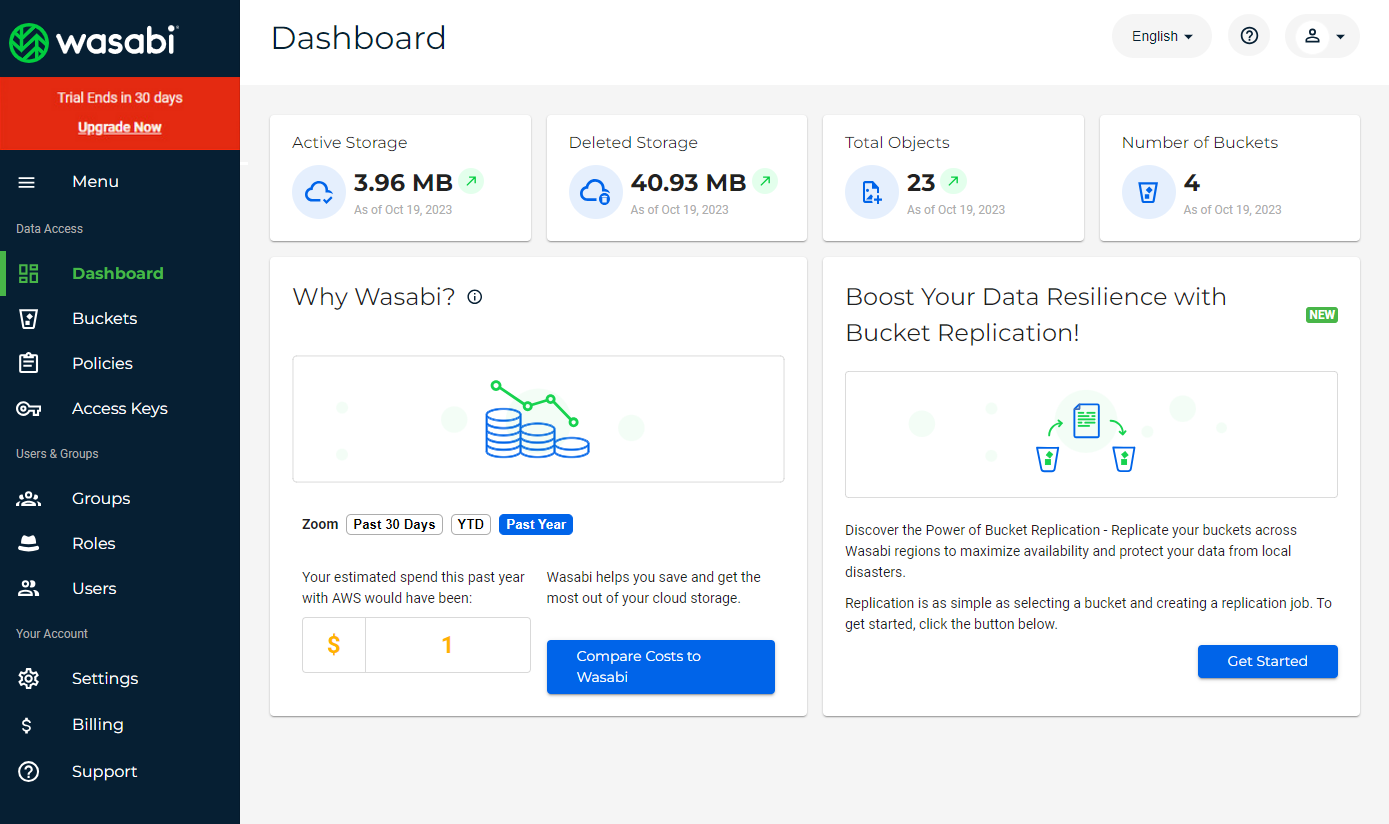 Ysee a screen that prompts you to start using Wasabi by creating a bucket. For example: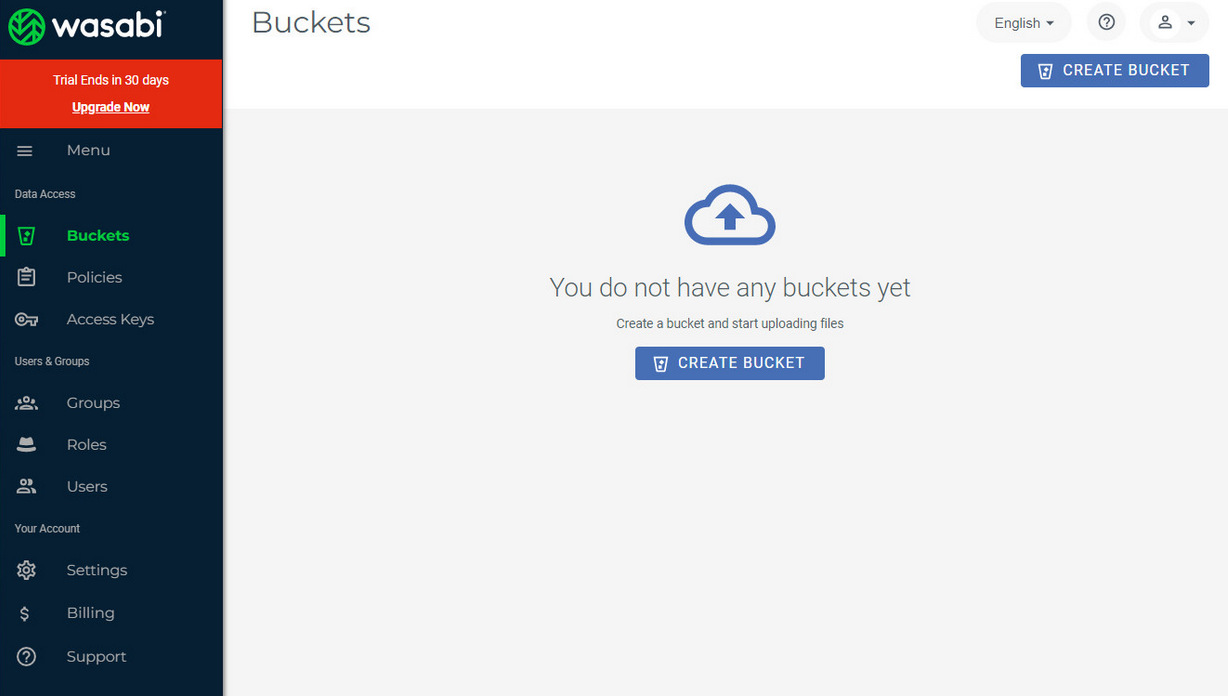 When you log in to the Wasabi Management Console, a banner may display announcing new products and features, special offers, service incidents, or scheduled maintenance. This banner is visible on both the login screen and inside the Console. For example:

Signing In
If you close or time out of Wasabi, you can sign in again by following the instructions in Signing in to Wasabi.
Logging Out of Wasabi
Open the account sign-indrop-down.
Click Logout.
Timing Out of Wasabi
If you are not active in Wasabi, your session will time out automatically after one hour of inactivity. Note, however, that this will not occur if you are uploading objects.
Just click OK and then sign in again.

Objectives Met!
---
What's Next